Glacier National Park was created by President Taft on May 10, 1910. Serviced by the Great Northern Railway at East Glacier and West Glacier, tourism quickly grew even before roads were carved into the landscape. Historically traversed on horseback and by wooden boat, the early visitors enjoyed rustic lodgings erected by Louis Hill and appropriately spaced a day's ride apart.
Today's visitors still enjoy the historic lodgings at the Belton Chalet, Lake McDonald Lodge, Glacier Park Lodge, Many Glacier Hotel and Prince of Whales Hotel in Waterton. Two backcountry chalets continue to cling to the craggy heights of Glacier's mountains at Granite Park Chalet and Sperry Chalet, serving guests when the snows recede enough to grant access. Mountain top fire lookouts are still staffed with lone watchmen, and the grizzly bears still roam free eating huckleberries and ruling their ecosystem.
As the rail line made progress towards the Pacific Ocean in the 1890's, towns sprang up along the way. Columbia Falls was, and is still, a timber town with a pioneering history where the mighty Flathead emerges from Bad Rock Canyon and flows south to Flathead Lake. The communities of Hungry Horse and Martin City boomed during the Great Depression era with the construction of the Hungry Horse Dam. Coram was a rail stop with a lumber mill, and Essex got its start with a lodge for rail workers at the Izaak Walton Inn. Polebridge was, and always will be, a remote off-grid outpost with a historic mercantile. West Glacier and Apgar retain their historic character today, even with millions of visitors passing through each summer.
Planning a Trip?
Live Campground and Parking Status in Glacier National Park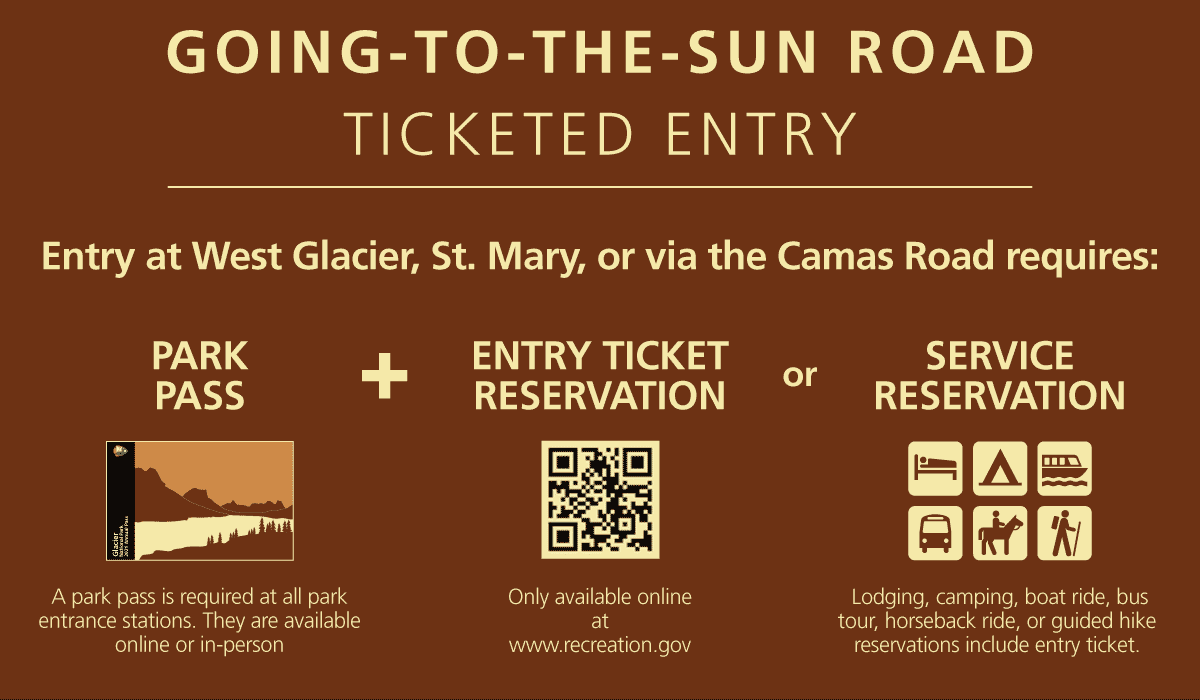 Entering Glacier National Park at West Glacier, St. Mary, or the Camas Road
Entering the Going-to-the-Sun Road at either West Glacier or St. Mary, or via the Camas Road, will require two things…a Park Pass plus a $2.00 Entry Reservation Ticket or a reservation for a service (Service Reservation) along the Going-to-the-Sun Road.
Qualifying Passes include:
Glacier National Park Passes
Private Vehicle 7-day permit – $35
Motorcycle 7-day permit – $30
Glacier National Park Annual Pass – $70
America the Beautiful Passes
Annual – $80
Every Kid in a Park Annual 4th Grade Pass – Free to 4th Graders
Annual Pass for Military – Free
Annual or Lifetime Senior Pass – $20 or $80
Access Pass – Free
Volunteer Pass – Free
Lifetime Golden Age Passes are also honored.
In addition to the passes listed above, entry to the Going-to-the-Sun Road at West Glacier or St. Mary, or via the Camas Road, will require a $2.00 Entry Reservation Ticket or a Service Reservation, as described in the detailed information on this page and on the map above. Please read through this information carefully.
Entry into Glacier National Park at Many Glacier, Two Medicine, or Polebridge will only require a park pass.
Online Entry Reservation System (Ticketed Entry)
Day-use visitors who arrive by private vehicle or motorcycle and enter the West and St, Mary Entrances, or via the Camas Road, between 6 am and 5 pm MDT must have a $2.00 Entry Reservation Ticket. Entry Reservation Tickets are valid for seven consecutive days per vehicle. They may be used anytime within that seven day period.
Visitors arriving on foot or bicycle do not require an Entry Reservation Ticket. Day-use reservations are included with any overnight lodging and service reservations along the Going-to-the-Sun Road corridor between the West and St. Mary Entrance Stations.
This includes visitors with overnight accommodations, including Village Inn, Lake McDonald Lodge, Rising Sun Motor Inn, Granite Park and Sperry Chalets, Fish Creek Campground, or in-park private lodging, and visitors with reservations for wilderness camping, boat rides, guided hikes, horseback rides, or bus tours offered between the West and St. Mary Entrances of the park.
An Entry Reservation Ticket for the day is included in your service reservation. The included entry reservation applies only to the dates of your service reservation.
Proof of a service reservation (e.g., lodging, tours, etc.) is required and will serve as your Entry Reservation Ticket.
Additional Information and FAQ's found here: https://www.nps.gov/glac/planyourvisit/gtsrticketedentry.htm
Shuttle Systems
The Glacier Institute Going-to-the-Sun Road Day Programs
Running DAILY from July 1 through September 30
In-Depth Educationand Interpretation for 9 hours (8-5)
Five Options to choose from daily
Hidden Lake Overlook
Highline Trail
Avalanche Lake
(x2) Complete GTTSR (shorter hikes, more stops)
Transportation from Columbia Falls INCLUDED
Participation acts as your Going-to-the-Sun-Road ticketed entry reservation for the day
ONLY $100/person- Register for Day Program Here 
Glacier Park Inc Shuttle System for 2021 Information